Puddings & Mousse Desserts For Your Low-Carb Lifestyle
Filed under: New Product — @ September 22, 2006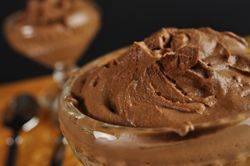 After posting my latest week's worth of low-carb menus, I have been inundated with requests from people about where to find the low-carb, sugar-free puddings and mousse products I used. I did not mean for it to be a secret, but I suppose I simply neglected to previously tell you about the amazing Carb Counters Instant No Cook Pudding and Carb Counters Instant No Cook Mousse products from Dixie Diner.
If you are a fan of pudding and mousse and are livin' la vida low-carb, then you would be doing yourself a great disservice if you did not at least TASTE these incredible products. Sweetened with Splenda, these delightful treats contain less than 25 calories per serving, 3g of protein, and less than 2g net carbs. WOW! Best of all, they are SUPER EASY to make with heavy whipping cream and an electric mixer.
The Carb Counters Pudding whipped up into a very thick dessert ready to be eaten within minutes. In fact, the vanilla pudding I made actually looked like ice cream it was so thick. The rich taste of these puddings is unmistakable. Comes in the flavors chocolate, vanilla and raspberry.
The Carb Counters Mousse was a bit different inasmuch as it was much lighter with a melt-in-your-mouth whipped cream texture. I literally thought I had died and gone to heaven when I ate this dessert because it was sooooo good! Comes in the flavors chocolate, vanilla and tapioca.
Someone e-mailed me about the caramel vanilla pudding I ate. That was the Carb Counters Pudding except I added some DaVinci caramel syrup to it for flavoring. Mmmmm, it was AWESOME! The combinations are endless and I hope you give these a taste for yourself. They are as good or better than the name-brand puddings with all that sugar, except these are perfect when you are livin' la vida low-carb!
Order some TODAY!