Does Bread Increase And Low-Carb Foods Decrease The Risk Of Cancer?
Filed under: Study — @ October 21, 2006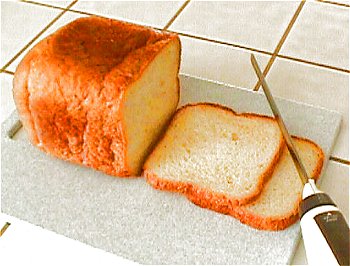 Man shall not live by bread alone, but he could get cancer from it!
If people thought the popularity of the low-carb diet was bad for the bread, pasta, dairy, and rice industries, then they ain't seen nothing yet!
A brand new Italian study released on Friday provided the shocking revelation that a diet rich is bread consumption is directly linked to the most common type of kidney cancer there is called renal cell carcinoma (RCC).
This research may be the most damning evidence yet against eating a high-carb diet for health ever again and is proof yet again why livin' la vida low-carb truly is a healthier way to eat for the rest of your life.
Lead researcher Dr. Francesca Bravi, from the Milan, Italy-based Institute of Pharmacological Research "Mario Negri," and her fellow researchers conducted a large controlled study of 2301 Italians adults to determine if diet and nutrition played any significant role in the development of RCC. Dr. Bravi said this is an extremely controversial subject among dietary researchers and she wanted to see if a link existed.
Here's what they found were the top five foods people consume that can lead directly to an INCREASE in their risk of developing RCC:
Bread — 94 percent increased risk
Pasta — 29 percent increased risk
Rice — 29 percent increased risk
Milk — 27 percent increased risk
Yogurt — 27 percent increased risk
Can you say carb, carb, carb, carb, and carb?! And you'll never guess what actually helps DECREASE the risk of RCC. I'll give you a hint–if you are on the low-carb lifestyle, then you are probably already eating LOTS of these foods!
Click here to read more about this startling new study which gives even more reasons to turn to low-carb living for the sake of your health.