Zero Carb Proponent Declines Interview With Low-Carb Blog
Filed under: Celebrity — @ October 24, 2006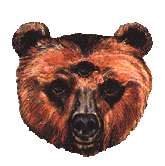 "The Bear" advocates eating less than 5g carbs daily for health
One of my regular readers sent me an e-mail on Monday after listening to the debut episode of my new podcast show and suggested that I consider interviewing the man who calls himself "The Bear." I responded that I may do interviews once I get a few more shows under my belt, but that I would be open to having him do an interview at my blog.
You might recall that "The Bear" is the man behind the zero carb diet that our friend Rob from The Zero Carb Daily blog so strongly advocates. In fact, you could almost consider Rob the long lost stepson that "The Bear" never had considering how much he so closely emulates the nutritional ideas of this former member of The Grateful Dead.
When I got in touch with "The Bear" about doing an interview with me, he responded back to me rather quickly by basically declining my request stating he does "not have the time to waste on a 'blog' on any subject, but particularly on one which in fact would only cater to food-obsessives who want a constant stream of 'reasons' to eat the right food and 'proof' it is good for them."
Ooooookay, I can understand not wanting to agree to an interview with me if the premise of his reasoning is sound. But anyone who knows me and the nature of my style regarding diet and nutrition is abundantly aware that I am willing to hear new ideas to further broaden my knowledge about what is right, especially when it comes to different ways to lose weight and get healthy. I think an interview would have been quite fascinating for you to read, but "The Bear" was simply not interested.
Nevertheless, although he didn't want to be interviewed, "The Bear" did share a little bit about why he believes the way he does regarding an almost totally carniverous, nearly zero-carb diet. It's a fascinating concept to think about from a man who has lived this way for decades. See what you think of the brief parting remarks he made to me by clicking here.