Casting A Low-Carb Spell On Halloween Candy
Filed under: Low-carb Tips — @ October 26, 2006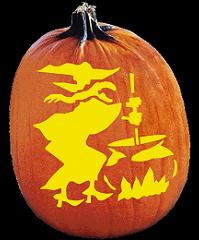 bq. Double double, your diet's in trouble
Halloween candy can turn low-carb to rubble!
Boo! Hey, it's me, "Livin' La Vida Low-Carb" Man Jimmy Moore here and it's time for Halloween yet again in less than a week. This is the one time of the year when you get to see witches, ghosts, and goblins right next to Cinderella, angels, and Dora the Explorer alongside Spiderman, SpongeBob, and that freaky Scream character. Yikes!
But as scary as some of those Halloween costumes can be these days, there is an even scarier reason why people who are livin' la vida low-carb should be afraid, very afraid of the Halloween season –
C-A-N-D-Y!
bq. Sugar, sugar everywhere, try to resist it if you dare! Ha ha ha!
Let me tell you, I know how hard it is to resist the urge to munch away at the overabundance of candy that is available to you this time of year. If you have been paying close attention over the past few weeks, then you've probably seen candy available in places that you never even thought about — in your office at work, next to the bank teller, and even in your doctor's office. Calgon, take me away!
The prevalence and outright acceptance of sugar in our society is very disheartening to me. With the number of people who are either overweight or obese numbering two out of every three, when are we finally going to realize the intricate and damaging role this sweet little substance is doing to our bodies? Not only is it making us fatter and fatter, but it is also leading to a significant decline in the health of so many. Eeeek! Now THAT is scary!
Click here to read the results of a recent mindboggling survey on the preferred "treat" of adults when they were children compared to now and how a simple strategy of casting a low-carb spell on Halloween candy can keep you from indulging when you know you shouldn't.