Google Weight Loss Tool Worth Checking Out
Filed under: Publications — @ November 30, 2006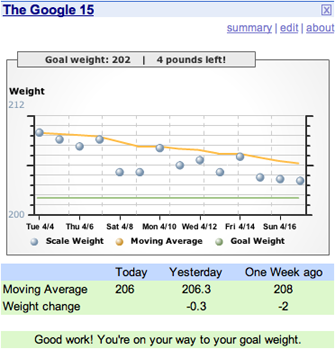 "The Google 15″ lets you accurately track your weight loss progress
I'm all for using anything to help you feel confident about reaching your weight loss goals. Whether it is creating a big poster of the pounds coming off of your body or keeping a journal of your carbs, exercise and water intake daily, these are tools that will help you become the eventual weight loss success that you dream about.
There's a relatively new online weight loss tool that I found while surfing the Internet and it's actually pretty neat, too. It's a Google Module from Google software engineer Brian W. Fitzpatrick (aka Fitz) called "The Google 15."
When newbie techno-nerds first start out working for Google, the common belief is they generally gain at least 15 pounds from all the free food at their fingertips compliments of the great Google empire (Google denies this is true, but it makes for a good story).
As a result, Fitz wanted to provide a tool that would help encourage people to track their weight loss. Thus was born "The Google 15."
Unlike traditional trackers which go up and down fluctuating and frustrating even the most devoted dieters, "The Google 15″ implores a moving average so it is much more realistic about how you are doing by seeing the trend from the previous two weeks. You weigh yourself at the same time every single day (preferably in the morning) and input your weight online.
Learn more about this great new weight loss tool and how it can help you track your progress on your low-carb lifestyle by clicking here.