Encourage Weight Loss In A 'Furious Dieter'
Filed under: Low-carb Tips — @ December 12, 2006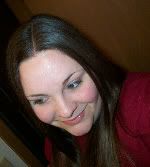 Emily is insulin resistant and is now using low-carb to lose weight
Ever since my nearly 200-pound weight loss on the Atkins diet, my heart literally aches for people who struggle with their weight and overall health. The pathway to a better life is not an easy one, but it is indeed possible as my story of triumph hopefully proves to anyone who thinks otherwise. That's why it breaks my heart to see people like Emily Green struggling.
This good-looking 23-year old Goshen, Indiana woman visited one of my other low-carb web sites on Monday–LowCarbNewsLine.com–and submitted her blog called "The Furious Dieter" for inclusion in the directory. I quickly obliged and after taking a look at her blog a little bit closer.
Here's how Emily describes her blog:
"I'm a 23 year old woman diagnosed with insulin resistance. I need to do a low-carb diet in order to lose my extra fluff. I can't diet, but I try."
Intrigued, I browsed around Emily's blog to see what she's really all about. What's with this "furious dieter" mantra? What's got her so angry, depressed, and yes "furious?" Perhaps we can encourage her to keep up the great work on her low-carb plan and to just NEVER GIVE UP!
Click here to learn more about Emily and how YOU can give her the gift of hope this Christmas with a very small act of kindness.