Quick & Easy Chocolate Cake That's Perfect For A Low-Carb Diet
Filed under: Low-carb Recipes — @ August 27, 2007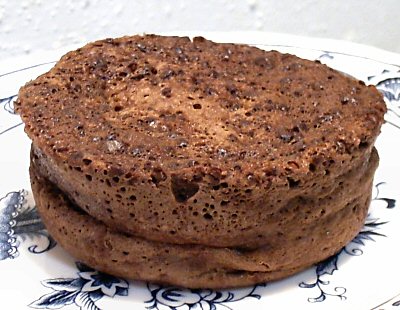 Who says you can't have chocolate cake on a low-carb diet?
Just mention to someone that you're on a low-carb diet and I'll bet the first thing that starts rolling off their tongue are all the foods you CAN'T eat. No rice, no pasta, no this, no that–yadda yadda yadda.
Let me tell you something. Livin' la vida low-carb isn't about deprivation, but rather dedication to making healthier choices that will be keeping me around for many more years than my old habits would have. It's all about living better than I ever thought possible while still enjoying some rather decadent treats along the way.
One such treat that you can have on the low-carb lifestyle is this amazing recipe compliments of Linda's Low Carb Menus & Recipes which fellow low-carb blogger Kent Altena shared in his latest video.
Here is the basic recipe that Kent used in his video:
3-MINUTE FLOURLESS LOW-CARB CHOCOLATE CAKE
1 TBS Butter, microwave for 10 seconds to soften
1 Egg
1 TBS Da Vinci SF Vanilla syrup
2 TBS Splenda
1 TBS heavy cream
Pinch salt
2 TBS cocoa
Click here for the directions to this recipe as well as a how-to video from Kent Altena about how he makes this special dessert for his wife.