Video: Chewy Low-Carb Peanut Butter Candy
Filed under: Low-carb Recipes — @ September 4, 2007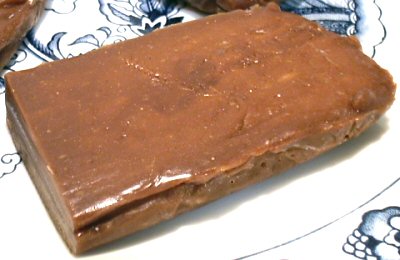 Linda's lick your lips low-carb peanut butter candy recipe
Low-carb blogger/vlogger Kent Altena is back in full form again (YEAH!) with his low-carb YouTube video series. Last week I shared his video about how to make a quick and easy low-carb chocolate cake. Today, he's got another something special up his sleeve.
Of course, this one once again comes from low-carb recipe queen Linda and her outstanding and comprehensive recipe and menu web site. I'm so happy to share her mouthwatering recipes with you in Kent's videos and you can access more of them at the recipe thread at my new "Livin' La Vida Low-Carb Discussion" forum where Linda herself is the moderator. Check it out!
The recipe Kent makes in this video is for a chewy low-carb peanut butter candy bar. Although he's gotten some negative comments from a few people at YouTube about the way this recipe looks, all that matters is that it TASTES FANTASTIC! I think you'll agree.
CHEWY LOW-CARB PEANUT BUTTER CANDY BAR
2 TBS butter
1/4 cup natural chunky peanut butter
1/4 cup Splenda
1 cup chocolate whey protein powder
1/4 cup DaVinci Vanilla syrup
1/4 cup Salted nuts (optional)
Click here to see the rest of this delicious low-carb comfort food recipe and Kent Altena's video demonstration about how to make it.